I'm Jack and I've been a member of the MineAcademy community since October 2020, I started the MineAcademy courses with no prior experience in coding but following the courses and interacting with the community now allows me to code quality Minecraft plugins.
Before I joined the course, I was a Minecraft server owner, but I couldn't customize my server the way I wanted because I always had to rely on plugins I didn't own. Therefore, I knew the only way I could ever have a chance in running a successful server is if I learned to code Minecraft plugins.
So, what I did was I spent a bit of time searching for the best ways to learn to code plugins and I ended up coming across someone who mentioned the MineAcademy coding courses and recommended it to me. I checked it out, it looked very professional compared to all the other courses I'd seen, so I decided to purchase Project Orion which was one of the best decisions I'd made in my life.
I was quite skeptical at first about purchasing the MineAcademy courses…
I was quite skeptical at first about purchasing the MineAcademy courses because I didn't want to waste money. I mean sure there are free YouTube tutorials and documentations that can help you learn how to develop plugins; however, these videos are often outdated or teach poorly written code and aren't always clearly explained.
MineAcademy is a course created by Matej Pacan, an experienced developer and instructor selling top quality plugins which is why I knew I could trust him over any Youtubers or cheap Udemy course.
It is hard to keep a learning mindset if you're on your own because you're going to miss out on so many techniques you could have learned from a professional, that's why having an instructor is so important.
Purchasing a reliable course such as MineAcademy will help you stay on track, many people who choose to take the cheap, hard and less fun way tend to give up.
What will you achieve?
MineAcademy allows you to understand the coding language Minecraft uses (Java) and you'll learn how to use that language to code pretty much anything you'd like in Minecraft.
You'll have a better understanding of the mechanics of the game, and not only will you be able to lead a team of developers, but you'd also be able to code highly advanced plugins you can sell and easily win back the money you spent on the course.
"I went from no experience to coding plugins at a professional level"
The toughest step when starting to learn to code is the beginning.
This is because learning Java is similar to learning a whole new language such as Chinese, it can get terribly frustrating and there are rules you may have trouble understanding at first and let me just say it's not the kind of thing you can master in the space of a week.
I remember when I first started the course, I had trouble picturing myself being able to code, I lacked self-confidence, but I never gave up which is why I'm now able to code pretty much anything I'd like in Minecraft, this is why you shouldn't ever give up. 
The moment I truly started learning fast was when I created my first plugin and used the knowledge, I'd learned in the courses to code something of my own. When coding your first plugin, there's no doubt you'll get stuck on something you're not familiar with, but MineAcademy has a lovely community that is always here to help.
Are the MineAcademy courses worth the money?
You get around an hour of Q&A support a week, each call would have a value of around 20€ which comes to a total of 100€ after a month (the support is unlimited) and that's probably 10% of what you would get by purchasing the course.
"But hey, why should I purchase courses if I can learn to code via some free resources, wouldn't I technically be winning or saving money?"
No, if anything, you'd be losing money because you would be wasting time, you can't buy time which is why it can be worth far more than money. If you're going to spend hours learning something that could be outdated or isn't clear you will with ought a doubt waste time that could have been used for something more constructive.
To save time, you need structure, and you need to have an organised plan, which is exactly what MineAcademy provides.
So the simple answer to the question "Are the courses worth the money?" would be, yes definitely! I'd even say the courses are worth more than what they cost.
Also, what makes this course unique and better than any other courses you'll find is that not only does it teach you how to code quality plugins, but you'll also learn how to work on your goals, how to stay focused and how to keep improving your performance over the days, these life skills are extremely important because they will increase your productivity. 
This truly helped me a lot because you can really build yourself incredible discipline that'll allow you to stay focused on your goals: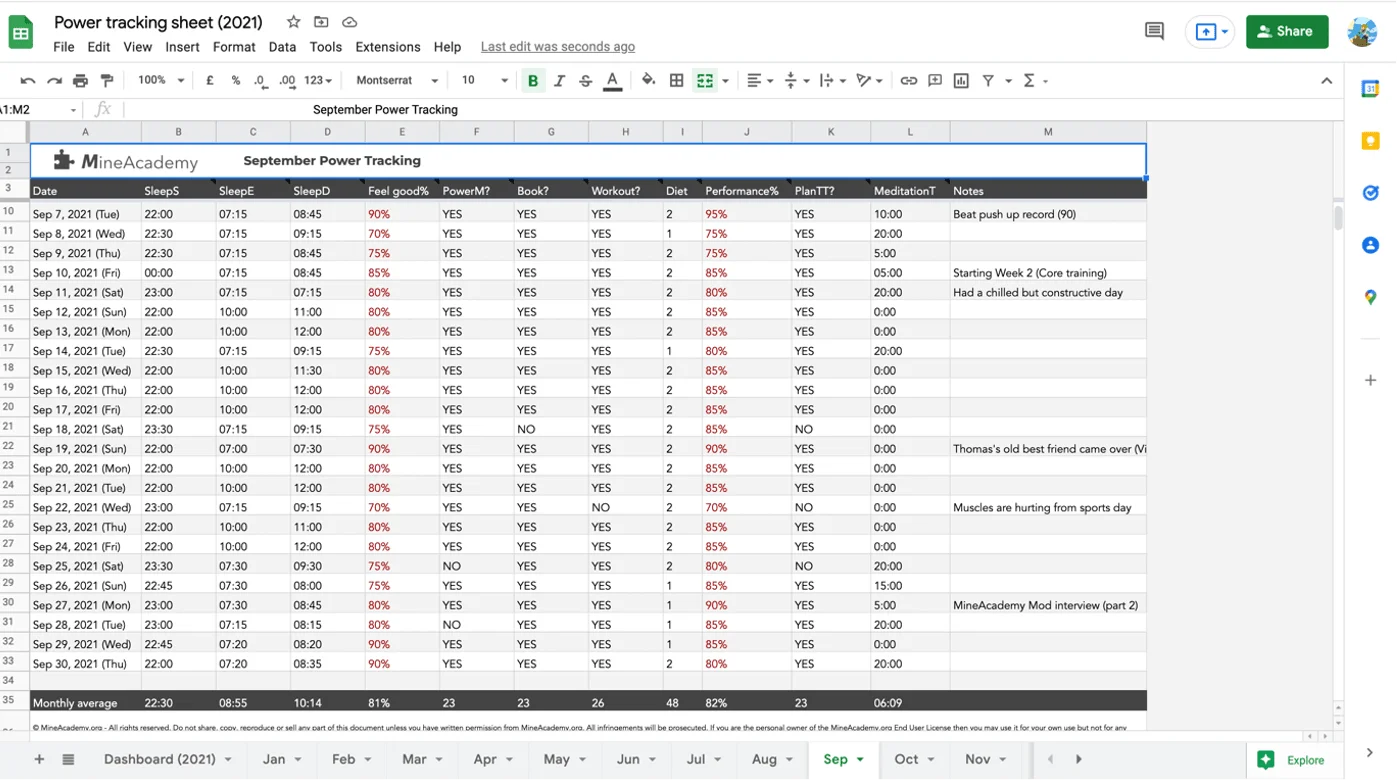 This is Power tracking, it allows you to track your performance over a month, you can then compare your total performance in that month to other months and see what you need to work on. This is only one of the tools I learned to use in the course and there are dozens more you'd learn to use too.
Insights on the community
There is a Skool group and Discord channels which you can use to ask questions, showcase your work, and find friends to work or study with.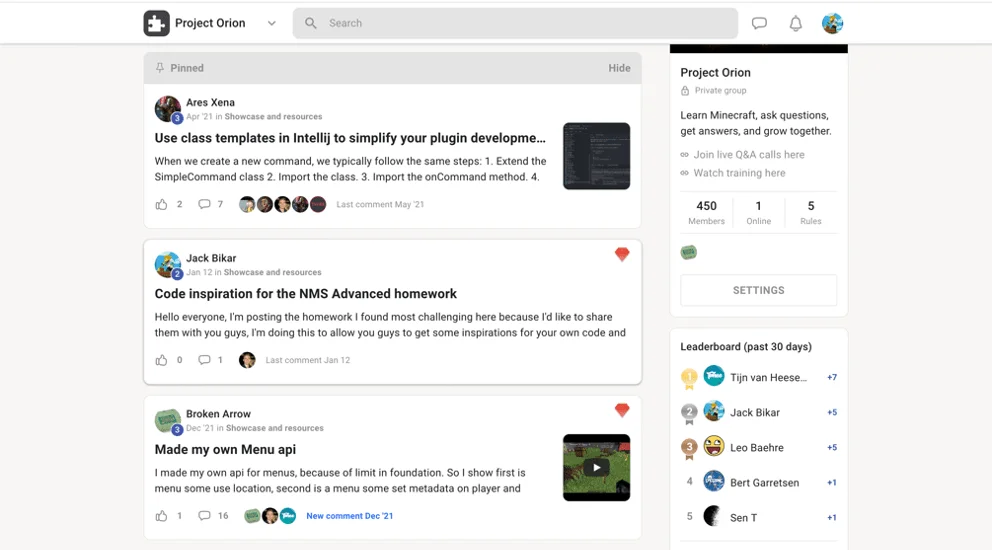 The Skool group is slightly more organised in terms of getting support and you can earn points for helping others and admin gems for bigger contributions.
This makes the MineAcademy community unique and fun to engage with, whereas other communities I've seen may be good as well but usually don't have the same atmosphere.
Showcase of personal projects:
SkyWars
SkyWars was the first plugin I created, I chose SkyWars as my first plugin to create because it's a minigame I've always loved playing with my friends, and I wanted to add things to it that would make it unique to any other versions created by other developers.
My knowledge in creating Minecraft plugins grew fast when creating this minigame because I was able to take in everything I had learned in the courses and use the knowledge to create anything I'd like.
MineAcademy has helped me immensely in terms of structuring the plugin in the smartest way, avoiding unclean code, and learning so many cool features I can use and modify in my projects.
Custom enchantments:
Throwable lightning axe:
Custom mobs:
Turret with a laser pointer: