Code Minecraft Plugins, Build Better Servers
Power your Minecraft desires
Build a highly customized Minecraft server with all the features you and your players have been wanting for ages. Grow your player-base, understand your players' psychology and launch your server 2.0.
Minecraft is not dying, don't let your server do
MineAcademy gets server owners laser-focused on the simple actions that create big reactions. You'll find our students building unique servers, getting players and having fun, not spamming their IP on other servers.
Code own Minecraft plugins
Become self-reliant
Understand Bukkit / Spigot / Bungeecords
Create amazing features for your Minecraft server
Learn how to advertise your server to get more players
Find long-term developers and reliable Youtubers
Become a leading network by specialization, player attribution and monetization strategies
We bring Minecraft where it used to be
Most server owners get stuck in an evil cycle of constant updates, broken plugins, getting frustrated with errors, policing players and constant struggle and time waste.
They know very little about coding and have to rely on their friends or developers to make plugins for them. New Minecraft updates break stuff and it's too hard and frustrating to do everything yourself.
Existing plugins don't do what they want them to do. They are hard to configure and cannot be translated into your own unique style and needs.
Most people have big unique ideas but they never transform them into reality because they don't have enough time, no idea how, get overwhelmed or simply run out of money.
The servers end pretty empty and if new people show up, they don't stay because it's empty. Server owners loose motivation for the game. At the end, they have to close their server. Some wanted to continue but, bigger networks came in, wiped their player-base away and left them helpless.
This creates the illusion that the PC community for Minecraft is dying. We decided to step up, turn this around and for the first time revolutionize the way people create and manage their servers!
Hover the image to see the difference. All data are real and are properties of minecraft-mp.com.
Unique server, happy players
Until now, there was a rare 3% group of server owners who experienced a totally different cycle.
They have everything done by themselves or their group, from ideas to reality, no copy paste and you can't find this anywhere else. Their servers had very innovative features on demand and offered something unique and tailored to their needs.
All of this makes their players willing to stay and attracts new players in, growing their server. Their server is self-sustainable and they can pay for bigger capacity and bring more talented people in, accelerating this process.
Some of them desire to get big and international, some just want to have a special bond between them and their community. All of them desired hate-hack-troll-free environment and they actually achieved it.
Their servers are running completely error free for a long time and keep Minecraft community alive.
How do we know all of that?
We have been in the game since 2012. We've been selling software on SpigotMC.org for over 4 years and released an online training program last year. Regardless if your server is 20 or 2000 slots, we have seen it all.
Positive ratings on SpigotMC


4.85 stars from 738 customer reviews
MineAcademy provides you with everything you need to be successful and have fun in Minecraft. No lecturing –
we provide a unique environment of 4 pillars so you can build and play.
Learn everything, conquer anything
The building is only as tall as the foundation is strong enough to build on. We teach you
everything you need to succeed in Minecraft today, tomorrow, in the future, and against big networks.
Why people play Minecraft, understand their motivation and desires so you can get more players.
How to prevent loosing yours players. How to get to their level of quality without hiring expensive developers.
Develop an entirely new game within Minecraft using everything Minecraft has to offer.
Error-free plugins even when MC updates or developers become inactive. Auto update plugins, even premium.
Protect your server against updates breaking your plugins and features so you can update stress-free. 
Dealing with griefers, hackers, trolls, haters, negative players and abusive staff members.
Complete website setup without coding skills, forums, voting system, PHP script, banlist, VIP payments, buycraft.
Develop unique plugins for your needs using Spigot and PaperSpigot. Libraries, events, commands, NMS, packets.
Proven methods to get more players and make them fall in love with once they join.
Stop wasting time when developing. Hot swap, live debug, refactoring, for IntelliJ and Eclipse.
Grow beyond one server. Setting up from scratch, making bungee-only plugin & cross-server plugin.
Creating unique atmosphere on your server. Vanilla, semi-vanilla, RPG, creative plots, multiverse, events.
Store data from plugins on bungee or MySQL. Synchronize plugin configs & player data.
Get a true community feeling, special bond with your players, story or theme, environment for players to return to, daily.
Develop a mature server with innovative features. No copy paste, unique experience, can't find this anywhere else.
Become self-reliant, earn from your server so you can grow it, selling premium plugins, piracy, legal, taxes.
Whether you're brand new to Minecraft or a fully established server owner with thousands of players, MineAcademy has you covered!
From zero to 1 with no tech knowledge.
Learn Java, experiment, get prepared.
Code own Minecraft plugins to build a unique server & add custom features of any size.
Build highly successful Minecraft network with amazing community & become #1.
Learn the way that best suits you
Learn anytime, anywhere and whatever way you like with multiple training formats.
Our training comes with online, social, live and simulated material.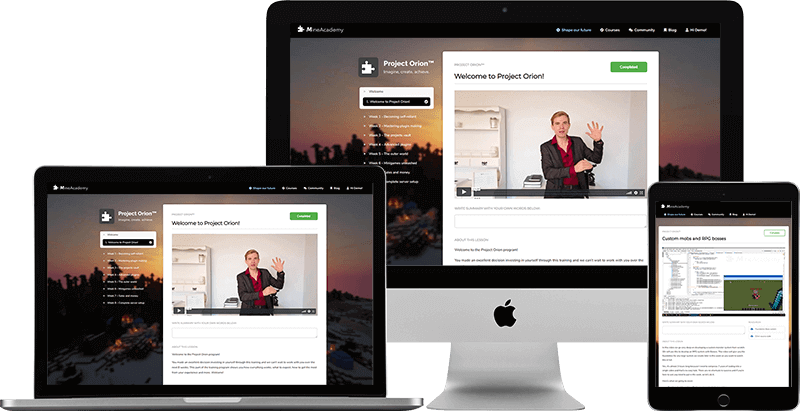 Online e-learning platform
Watch training videos in stunning 4K and soon with English captions. Access the training online from any desktop or mobile device, anywhere in the world, anytime you like.
Action items and tested resources
No-one is here just for the videos. The best way you learn is when you test it yourself, that's why we have action items and resources that'll get you started quickly.
Interactive talented community
Join an energetic community of people on the same wavelength as you. Coding is lonely when you're surrounded by "normal people" who just don't get it. Get inspired, ask questions, generate ideas, make friends and have fun!
Currently we have a private Facebook community however we are preparing an entire forum for our members.
Expert mentorship on demand
Get personalized mentorship from experts who can troubleshoot your problems and provide direction. All courses include weekly Q&A calls, private support group, livestream sessions and 24/7/365 support.
Matej Pacan
Founder of MineAcademy
Author of ChatControl and SpigotCourse
Thousands of people around the world have used MineAcademy's products to start their own
server, improve their knowledge, grow their existing server and change their life.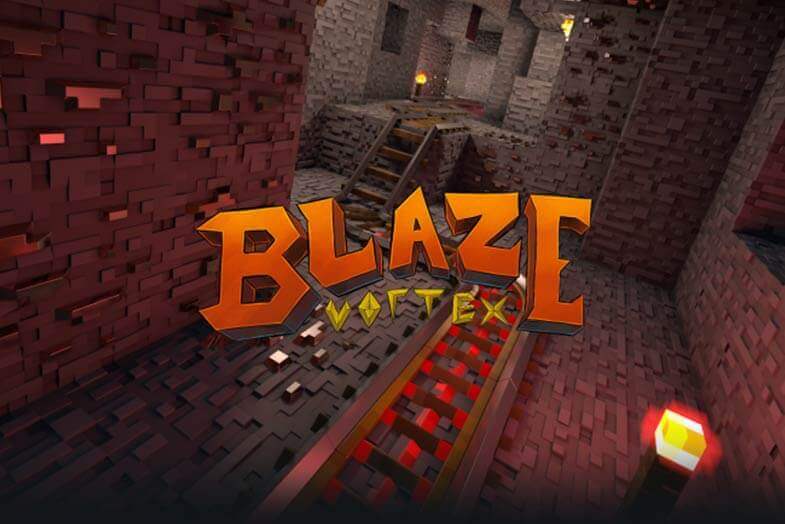 BlazeVortex
Fredericus Van Der Meer
Leading Factions server relies on ChatControl to monitor their chat 24/7
Demeng Chen
Demeng7215
How Demeng went from almost completely giving up to thousands of customers
JarFiles
Julian Staudt
Developer for Amazon Alexa Skills, SmartHome APIs and EasyBackup plugin
The question is – can you do it?
Our students become big with lots of happy players and customers. They do their original concept and instead of copying, bring own personality to the game and develop a royal community. If they can do it so can you!
Are you ready to join the revolution?
Your Minecraft server 2.0 has been waiting for this.