FREE UPGRADE FOR SPIGOTMC BUYERS:
The Ultimate Chat Formatting & Management Plugin
Scroll below for upgrade options.
If you have purchased ChatControl Pro™ on SpigotMC or made a contribution (translated the plugin, contributed on GitHub or through other means) you can obtain free lifetime license to ChatControl Red™.
Yes, even if you purchased ChatControl Pro on 2015, you can get a free upgrade right now.
PS: For changelog from ChatControl Pro, please see this link.
Fill the form below to apply for our free update offer:
ChatControl series are rated #1 in chat filtering and chat management. ChatControl Red™ is a full rewrite bringing the following over the ChatControl Pro from 2015:
Full Discord and BungeeCord support.
Chat channels, party chat, global and ranged chat, linked chat.
Over 15 new commands including viewing in-game logs, selective spying, 3D rules regions, mail and nick system.
Exclusive features like the [X] button to remove chat messages and the [item] placeholder in chat.
30 days money back guarantee.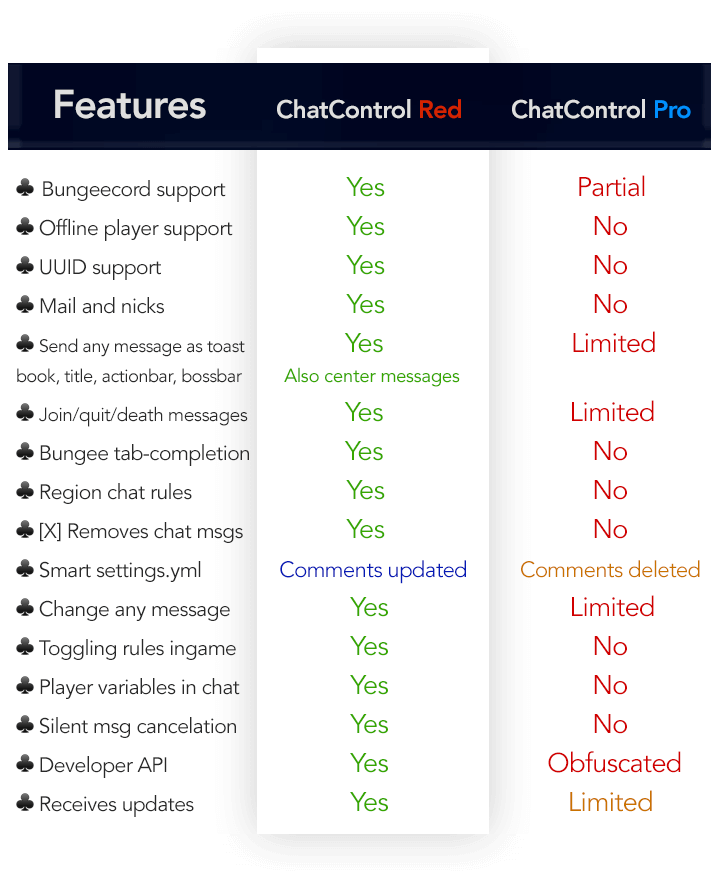 Build an amazing community. Your server, your way.