How To Grow Your Your Network To 1,000s Of Players & Monetize Safely
Create a royal community, earn and invest wisely, hire trusted staff & management, develop custom solutions and games fast and become #1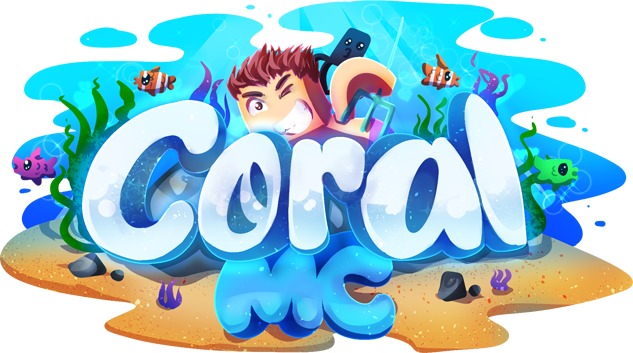 NICOLAS GREW ONE OF THE BIGGEST ITALIAN NETWORKS
"Grew my network to 1,200 average players"
Nothing was better than finding this amazing course, it changed my life. Today I have a Minecraft server from more than 1,200 average players and it became the biggest in Italy.
–Nicolas Bonistalli, coralmc.it
Stop Wasting Time Growing Your Server
Running a well-established MInecraft network is only a dream for most people
Many servers have been scammed, cheated on by developers, YouTubers or staff members…

They rely on developers and friends to code for them, but they often go inactive and limited plugins can't do what you want them to do…
Owners are stuck dealing with errors, lags, broken plugins, poor support instead of moving the needle forward
Most people get overwhelmed, as it takes too long for 1 person to do everything…
It feels like the server is dying out, and it's hard to keep players.
You work hard, but there's no reward…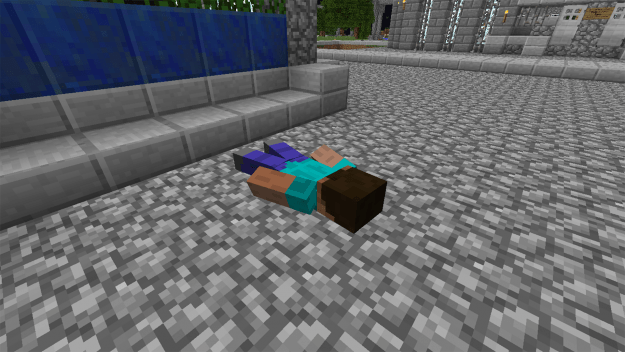 98% Minecraft servers run out of motivation and money and never make it past 3-month mark…
Join A Successful Elite Community

Learn from people running networks most can only dream of. In Black Nova™ you'll join our private 1,800+ member Discord group. 
Take Your Network To The Next Level
Skip broken advice online and grow your network in months, not years.
We've spent 10,000+ hours growing our own network and hundreds of others.
And after seeing most Minecraft server owners go mad wasting energy, time and money, we've distilled down the patterns that separate losers from winners in a step-by-step strategy you can use to build a highly successful Minecraft network. No risky investments, no doing it all yourself, no more frustration.
However, this is not for everyone. Black Nova is for you, if:
"How to build highly successful Minecraft networks, create a royal community, earn and invest wisely, hire trusted staff & management, develop custom solutions and games fast and become #1"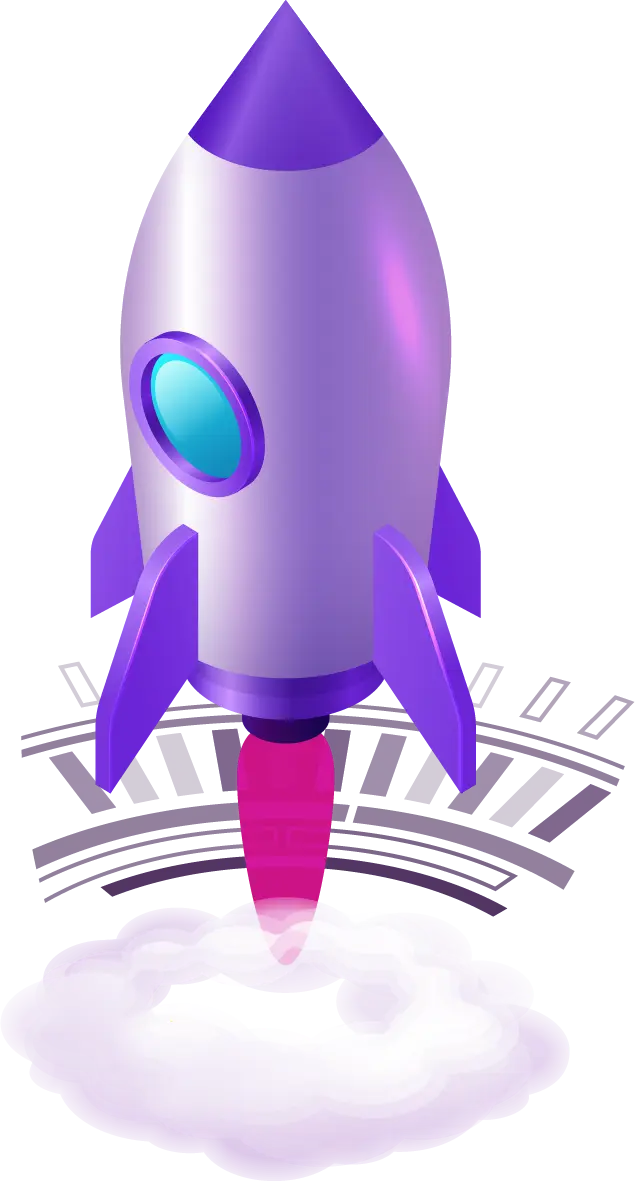 A Full Network Scaling Training
After 2,000+ students went through our programs, we've designed Black Nova to fit small community servers and large 5,000-player networks alike.

In Black Nova, we'll show you how to:

1. 80/20 Pareto scaling — Plot your entire server operation and systems into a powerful map, identify garbage, remove broken features taking you time and money and scale using the 20% of what you're doing that has the most impact.

2. Key differentiator — How to find the "key" that makes your server truly unique and stand out from the competition to draw players in.

3. How to make the "flywheel" - "the more players that join & stay, the more players that join & stay" (most servers have anti-flywheel - the more players leave the even more players leave)
4. Psychology — Understand players psychology and what makes them really tick, build trust and royal player-base with incentives to spend time on and return to.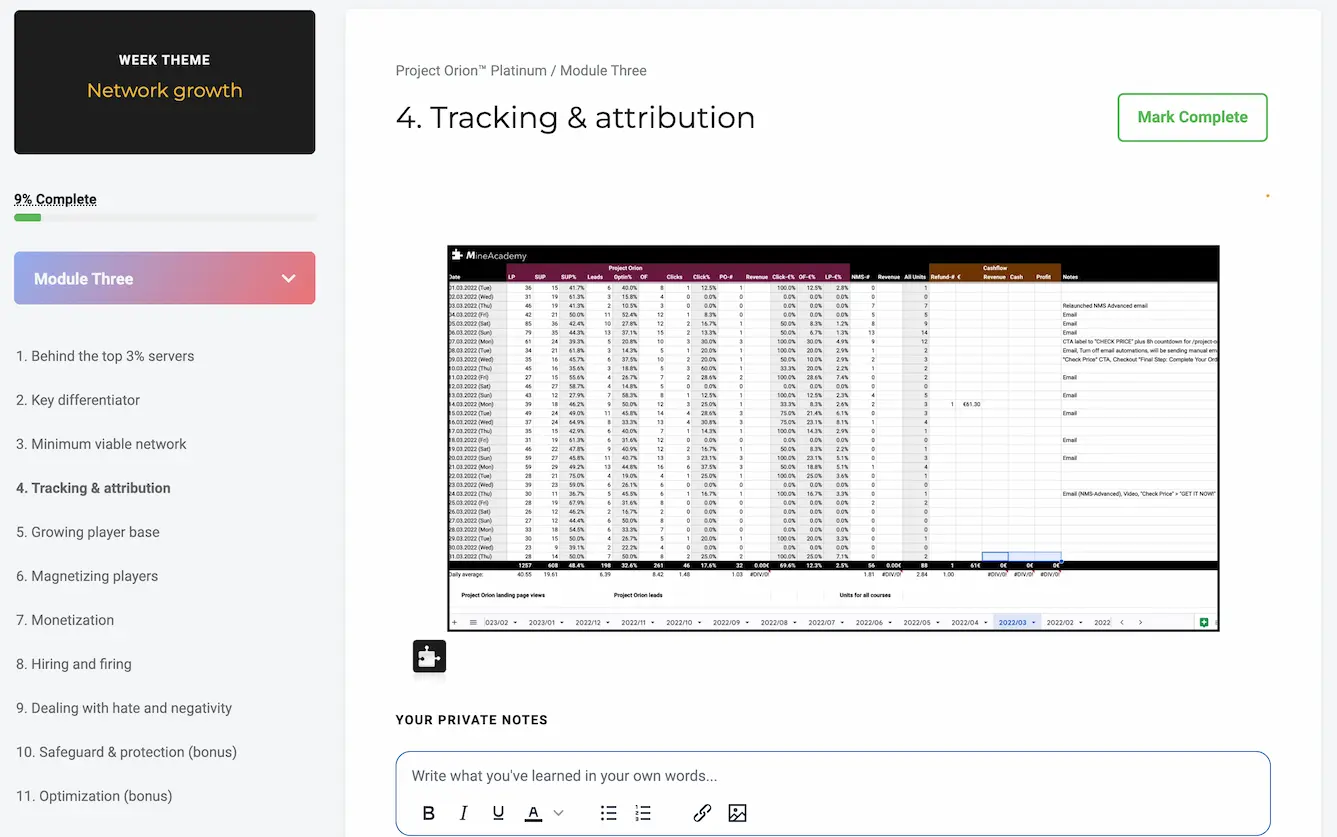 Monetization & Tracking
Attribution — Understand where players are coming from & which influencer brings players that spend the most in your online store.

CEO daily metrics — The KPIs and numbers that the 3% server owners keep an eye on every day (must have to grow) that servers who struggle do not.

Basics of monetization — How to make money from your Minecraft server without getting blacklisted by Mojang by selling in-game items, YouTube, Twitch, or selling a server's merchandise.
Get More Players & Make Them Stay
You'll learn to scale your Minecraft network using the following ways:


Word of mouth scaling 

— Scaling using word of mouth and player incentives.

Voting sites — Leading network positioning, picking winning sites and maximizing conversions.
Two YouTube scale methods — Vertical scaling through growing your own platform vs. horizontal scaling through influencers and creators.
Community scaling — How to infiltrate communities on Reddit, Discord and forums to attract quality players.
Social network scaling — Using social media as a growth mechanism.
Paid ads scaling — Using Facebook and Google Ads engine to scale your network in its latest stages.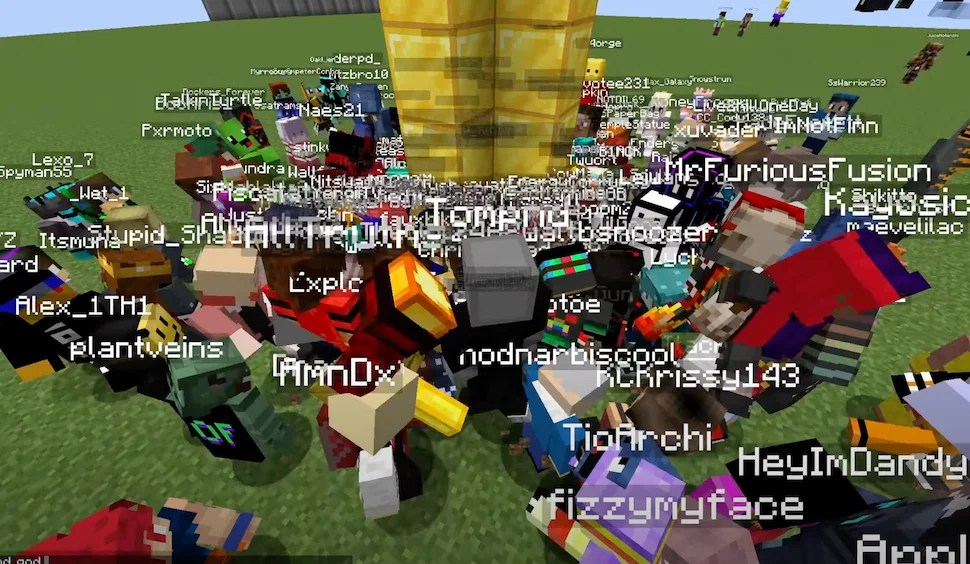 Hiring And Managing Talent

Hire when it hurts — When to start thinking about hiring people and stop doing everything by yourself. We'll give you a specific exercise to find out what tasks you should outsource first.

Whom to hire first — The first 4 roles you will be looking forward to hire for as you grow your company.

Where to hire from — How to find the best people, and should you rely on sole talent and skill VS personality for different roles?

Hiring processes stack — The exact step-by-step process on finding the right people, interviewing them, training them and dealing with issues, communication and payroll.

Contracts — We'll give you ready-made agreements and contracts you need when giving access to your server: Non-Disclosure Agreement (NDA), Contractor Agreement (great for hiring team members) and Client Agreement.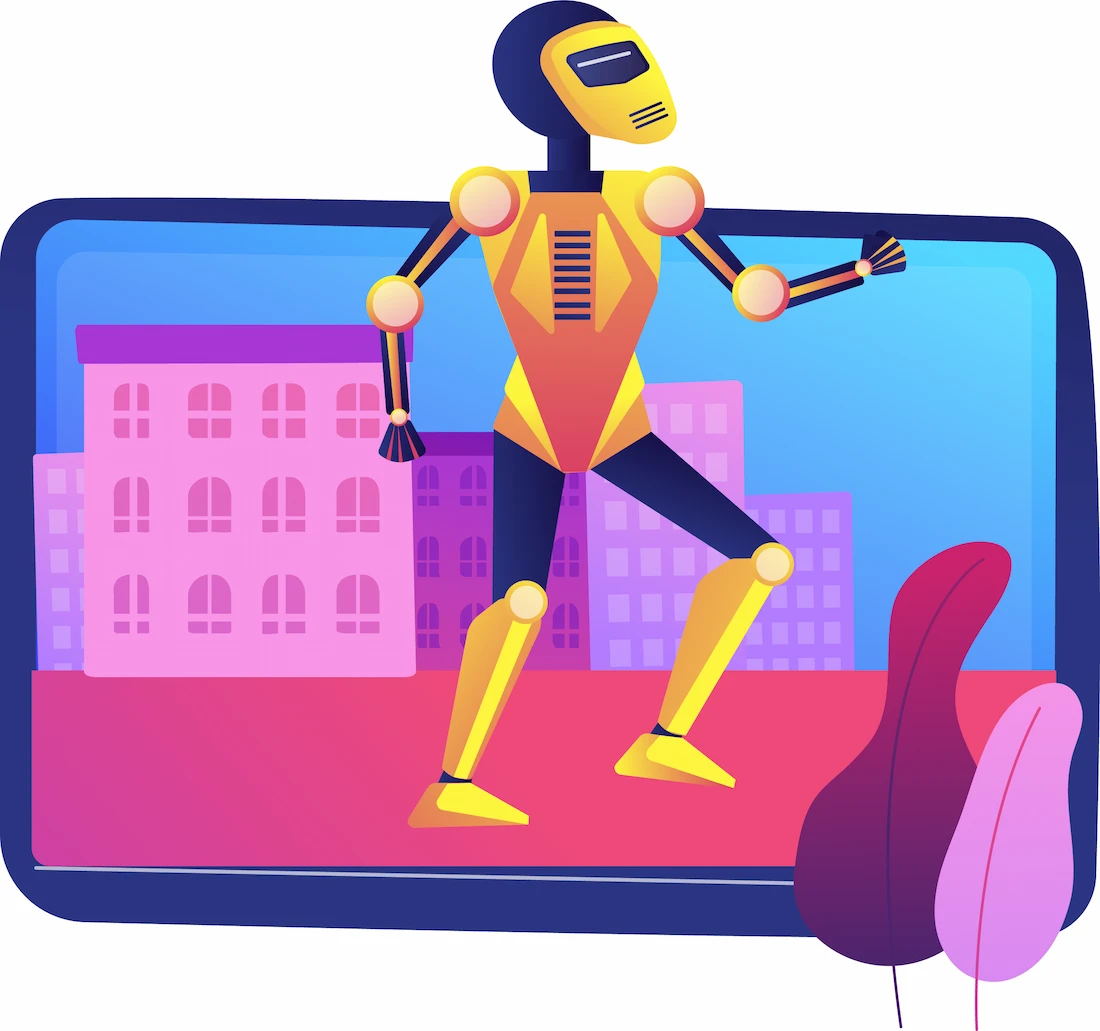 Eliminate Lag & Protect Your Network Against Attacks
Most servers create hardcore methods to protect themselves and eliminate lag which "punish" and alienate normal players.

We'll show to the #1 method to actually bring QUALITY players to your server and protect it against malicious ones without annoying good players, as well as:

— How to understand TPS (ticks per second) and how to detect and eliminate lag at its core:

— Minimize malicious players finding zero-day exploits, duplication glitches, redstone lag machines, creating hacked book/sign/potions etc.

— Detect malware, RATs and viruses in the form of malicious plugins

— Safeguard your servers against DDOS attacks, bots and VPN-based logins

— Secure your backend servers connected to a proxy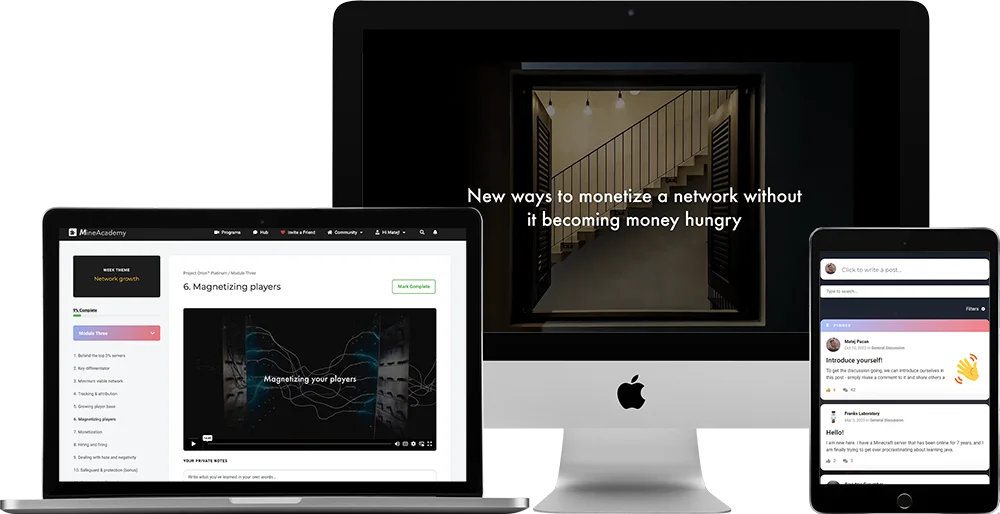 Grow your Minecraft server, keep your players and provide a unique experience. Covered by our 30-day money back guarantee.
Learn Everything, Conquer Anything
We teach you everything you need to succeed in Minecraft today, tomorrow, in the future. Regardless if you're a big network or a small community server.
Develop an entirely new game within Minecraft using everything Minecraft has to offer.
Get more players and make them stay, get a deep psychological understanding of their desires. 
Stop losing players. How to get to their level of quality without hiring expensive developers.
Error-free plugins even when Minecraft updates or developers go inactive. 
Protect your server against updates breaking your plugins and features so you can update stress-free. 
Dealing with griefers, hackers, trolls, haters, negative players and abusive staff members.
Connect your website to your database. Voting system, PHP scripting, banlist, VIP payments.
Develop unique plugins Spigot and Paper. Hook into any library, event, understand & master NMS, packets.
Proven methods to get more players and make them fall in love with your server once they join.
See code changes instantly without reloading and recompiling. Live debug mode for Eclipse & IntelliJ.
Grow beyond one server. Setting up from scratch, coding bungee-only and hybrid plugins.
Create unique atmosphere on your server. Vanilla, semi-vanilla, RPG, creative plots, multiverse, events.
Store data from plugins on bungee or MySQL. Synchronize plugin configs & player data.
Build an amazing community where players want to return to, create irresistible story or theme.
Add innovative features to your server you can't find anywhere else. No copy paste, no finished plugins.
Earn money from your server or premium plugins, protect yourself from leakers, legal issues, taxes.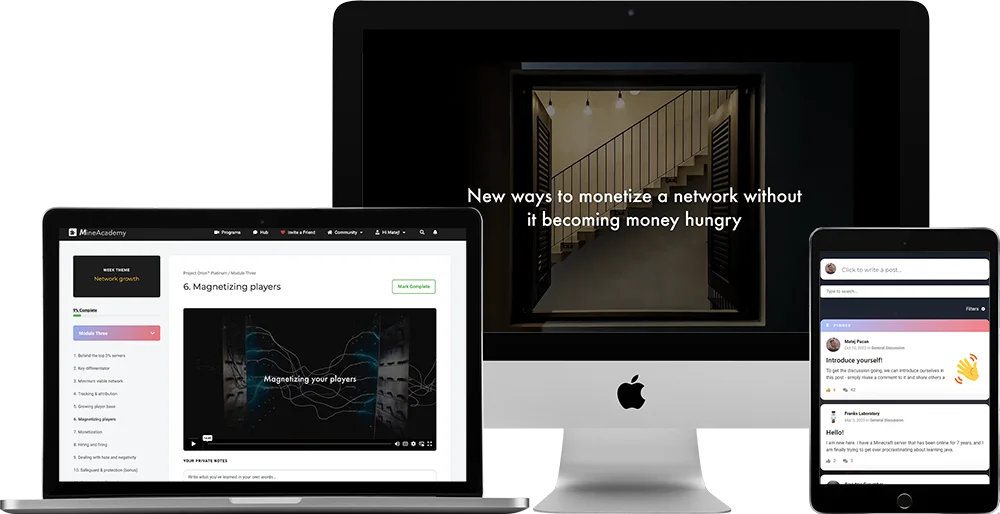 Grow your Minecraft server, keep your players and provide a unique experience. Covered by our 30-day money back guarantee.
Try The Program For 30 Days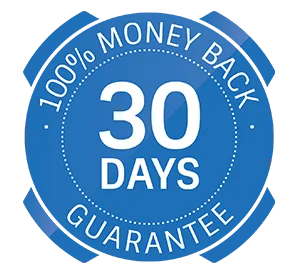 I poured my heart and soul into this course and the results of my students speak for themselves.

That's why I am giving you a full 30-day return guarantee. If you've tried out our program and are not absolutely satisfied with the quality of our training, we'll return your enrollment fee in full.

Try the program for yourself, explore it from inside, join the MineAcademy member group and get feedback from me personally.

If you are not satisfied, just email [email protected] within 30 days of your purchase we will send you a prompt and a courteous refund.

-Matej
Live Coaching 2x Per Week
We'll Review Your Plugin Live 2X/Week To Ensure Maximum Quality And Learning
Here's what Aikar, author of one of the most popular Minecraft mod platforms Paper said about our trainings:

In addition to the pre-recorded training, every week our instructors are sitting down with YOU to answer ANY questions (no matter if they are "beginner-like")
Even if you don't have a microphone you can chat and get answers in real-time. 
Special Offer - JetBrains Premium License
Companies like Google or NASA use software from JetBrains to write amazing programs. We work with JetBrains so now you can too!
With Black Nova your developers get a FULL 4-month license for any JetBrains paid product (IntelliJ Ultimate, PHPStorm or PyCharm, etc.)! The coupon codes that we provide are for personal subscriptions that can be used by individual developers. 
And after the 4-month period, JetBrains provides a 40% discount on any purchase you choose.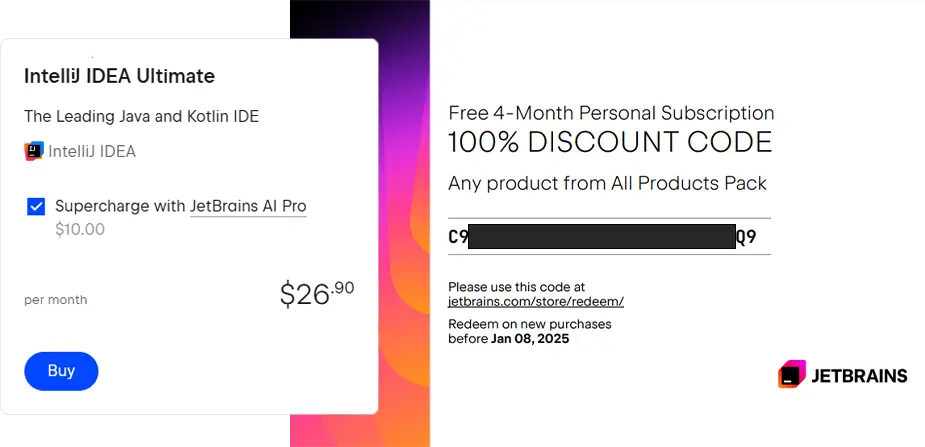 Everyday Price: 16.90€ * 4 Months = 67.6€ = $70 USD
Your Price: INCLUDED IN BLACK NOVA
Tried & Tested By 2,000+ Students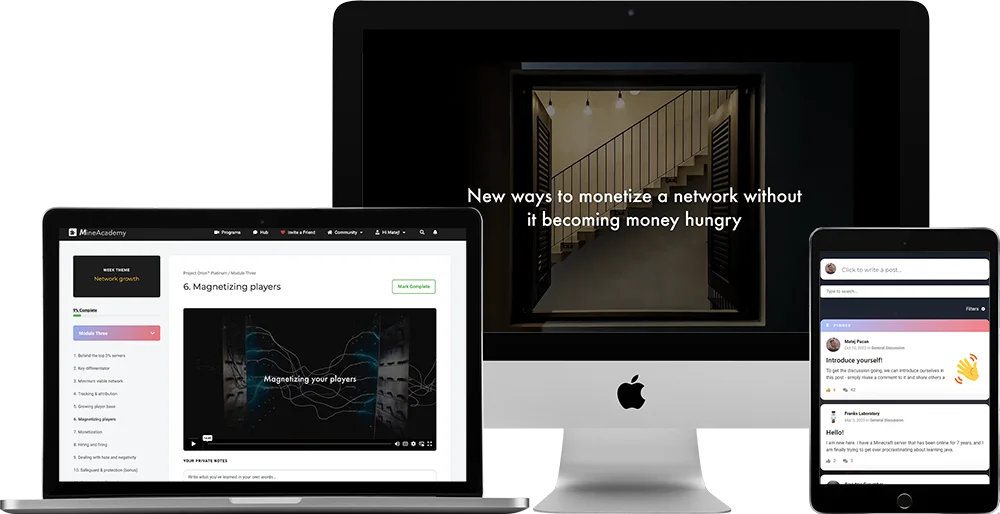 Grow your Minecraft server, keep your players and provide a unique experience. Covered by our 30-day money back guarantee.