Enter the next-level Minecraft
Black Nova™ is a high-level solution enabling you to scale to a world class level with automation, workflows and advanced server monetization. We also teach developing an entirely new minigame using everything the game has to offer.
Black Nova™ methodology is taught via application-only 1:1 mentorship program for server owners who want to achieve next level growth.
MineAcademy provides you with everything you need to be successful and have fun in Minecraft. no lecturing –
we provide an environment and building blocks so you can build and play..
Learn the way that best suits you
Learn anytime, anywhere and whatever way you like with multiple training formats.
Java Masterclass comes with online, social, live and simulated material.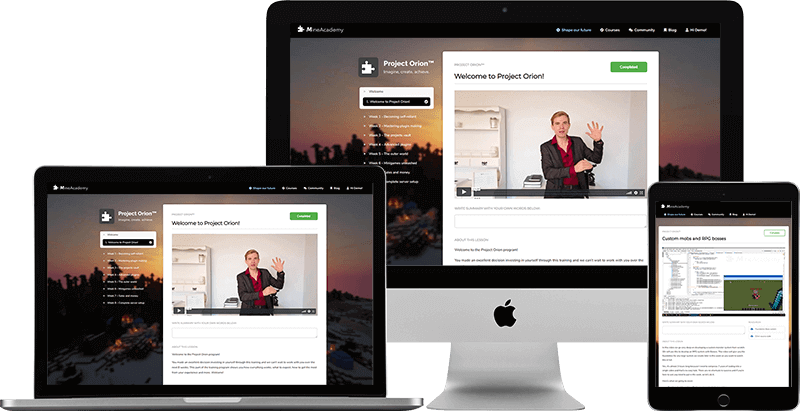 Online e-learning platform
Watch training videos in stunning 4K and soon with English captions. Access the training online from any desktop or mobile device, anywhere in the world, anytime you like.
Interactive talented community
Join an energetic community of people on the same wavelength as you. Coding is lonely when you're surrounded by "normal people" who just don't get it. Get inspired, ask questions, generate ideas, make friends and have fun!
Currently we have a private Facebook community however we are preparing an entire forum for our members.
Matej Pacan
Founder of MineAcademy
Author of ChatControl and SpigotCourse
Expert mentorship on demand
Get personalized mentorship from experts who can troubleshoot your problems and provide direction. All courses include weekly Q&A calls, private support group, livestream sessions and 24/7/365 support.
Are you ready to join the revolution?
Apply for Black Nova training before your competitor does.