Matej Pacan created MineAcademy in 2019. He built his first website at the age of 9 and first discovered Minecraft back in 2011. He started coding the next year and Minecraft is now his long-term passion.
First time I met Minecraft was way back in the days of beta 1.8.1, and I quickly fell in love with the idea of building your own virtual world.
The first server I ever played on was a small survival server. They've opened a "Medieval survival" server which was a vanilla server with a unique twist. Not in the sense of having dozens of useless plugins just adding flash and distraction. The atmosphere laid in the community, the map and the bounds players formed together. It was a place to return to after a long day in school and a place where I could create an entire new world within an already existing one.
By Christmas 2012 I got the best gift I could wish - to own a Minecraft server! It was a small place at the start but I kept at it and over time we got over 30,000 unique players.

My goals was to provide a place where everyone could find their own passion, that is why I offered up to four different gamemodes ranging from survival, creative to various mini-games.
I had all of these great ideas in my head but none of the existing plugins could do what I wanted it to do. I could not afford nor I wanted to hire expensive developers. Sometimes there was just this "one small thing" that was lacking and could be easily added however I had no idea how so I become stuck and just installed more and more plugins in hope of them fixing the inevitable – my own lack of competence.
If you are curious the website still operates on RushMine.6f.sk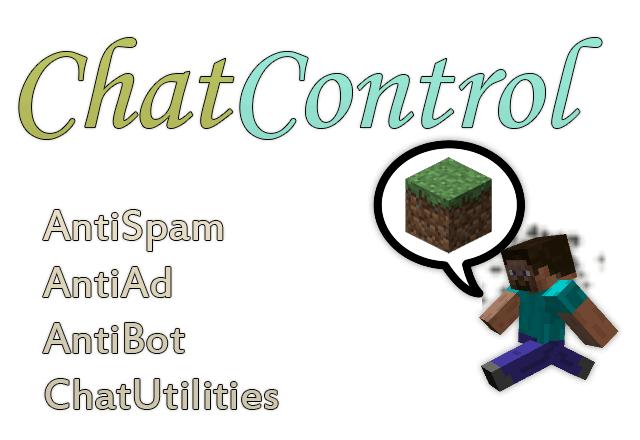 The biggest and most painful issue I noticed were players coming in and advertising their own server, flooding the in-game chat with swears or other undesired stuff. I needed a better solution and the best way to get it, was to create it myself.
When ChatControl came it originally only had two features – blocking repetitive messages and blocking ads. Over time I added more and more powerful features and decided to release it to the public in 2013.
One of the most unique features we have is our rules system. Originally, there was another plugin on the marketplace offering a similar feature however that plugin was no longer updated and the filtering system lacking, so I recoded everything from scratch and created what later become the flagship of ChatControl – our rules system.
In a nutshell, without almost any tech you can create simple rules to block or edit any message in your chat, anyhow you like it, warn the player or your staff, run different commands etc. Possibilities were truly endless and I believe that was the cause why we gained over 500,000 unique downloads since.
ChatControl is still being actively maintained to support latest Minecraft version and you can get it here.
As I noticed increasing demand, a new "premium resources" feature popped up on the marketplace SpigotMC.org. In 2015 I decided to give it a try. It was mind-blowing. I never expected so many people to purchase anything from me, let alone a plugin that used to be totally free.
I had lots of great ideas in my head and luckily some years of Java knowledge, so I continued to release more of what later became the starting point of my small business. Next year I released two more plugins, and in 2017 I had a total of seven plugins. After doing market research I discovered two plugins were among the top-selling resources on Spigot, which was absolutely fascinating and humbling.
After almost 7 years of daily coding, I really wanted to leave something for other people to start from so they could create their own plugins with ease. Online courses were already popular back then so I decided to create own with a unique twist specifically for Spigot.
SpigotCourse was the biggest both personal and business adventure I ever experienced up to that year. It was the engine that could take someone without any prior knowledge and teach them to replicate exactly what I did, in record time, cutting off years of their learning curve. The feedback was awesome, yet there were things I could have done better. After a massive market research I decided to create something much bigger for the entire industry. 
MineAcademy
With MineAcademy, we aim to revolutionize the entire Minecraft industry and bring much-needed fresh air for everyone owning, or wanting to own a server and win.
MineAcademy provides both educational and community resources for players and server owners so that they can build unique servers on their demand and enjoy the game more. The 2019 is a breakthrough year for me and the entire project MineAcademy and I can't wait to deliver on all of our awesome plans we have for you and for the entire community!
Talk soon,
Matej