How to build a custom Minecraft server
Project Orion™ is our flagship product teaching you how to become self-reliant, build and run a successful server with custom features on demand. All in a fast, easy and fun way. 
What is it?
Project Orion is a online training with live support and a community of programmers. It shows you how to grow your server, add custom features on demand and code amazing Minecraft plugins.
Who is this for?
Project Orion is for anybody who wants to add unique features to their Minecraft server and get more players. To take the full advantage of the course you must have Java programming skills. Click here to learn more.
Where does it happen?
Project Orion is an online training on our platform and consists of training videos, tools, member support and a private forum. You complete it online, on your own time.
How does it work?
You watch the videos, complete the action items, use the provided tools and templates. Ask questions on the forum or our instructor directly, follow the process, get results.
When does it start?
Project Orion is an online course, it starts the moment you enroll. You can complete it in your own time and work through it as fast or slow as you wish. You get lifetime access.
Why does it exist?
We created Project Orion because a lot of servers lack uniqueness and players. There was nothing that showed them how to grow into an amazing community with features on demand. We filled that void, and in extreme detail.
MineAcademy provides you with everything you need to be successful and have fun in Minecraft. No lecturing –
we provide a unique environment of 4 pillars so you can build and play.
Battle tested and proven results
We have been in the game since 2012. We've been selling software on SpigotMC.org for over 4 years and released an online training program last year. Regardless if your server is 20 or 2000 slots, we have seen it all.
Positive ratings on SpigotMC


4.85 stars from 738 customer reviews
What we teach in Project Orion
The building is only as tall as the foundation is strong enough to build on. We teach you
everything you need to succeed in Minecraft today, tomorrow, in the future, and against big networks.
Why people play Minecraft, understand their motivation and desires so you can get more players.
How to prevent loosing yours players. How to get to their level of quality without hiring expensive developers.
Develop an entirely new game within Minecraft using everything Minecraft has to offer in a unique twist.
Error-free plugins even when MC updates or developers become inactive. Auto update plugins, even premium.
Protect your server against updates breaking your plugins and features so you can update stress-free. 
Dealing with griefers, hackers, trolls, haters, negative players and abusive staff members.
Complete website setup without coding skills, forums, voting system, PHP script, banlist, VIP payments, buycraft.
Develop unique plugins for your needs using Spigot and PaperSpigot. Libraries, events, commands, NMS, packets.
Proven methods to get more players and make them fall in love with once they join.
Stop wasting time when developing. Hot swap, live debug, refactoring, for IntelliJ and Eclipse.
Grow beyond one server. Setting up from scratch, making bungee-only plugin & cross-server plugin.
Creating unique atmosphere on your server. Vanilla, semi-vanilla, RPG, creative plots, multiverse, events.
Efficient multi-page menu systems with auto refresher, interactive menus on demand.
Code your own rank and level-up system based on your server's unique setup.
Code a plugin whose settings are auto updating values, check for errors and are capable of editing itself.
Vanilla or NMS custom mobs and items to create true next level experience on your server.
Store data from plugins on bungee or MySQL. Synchronize plugin configs & player data.
Get a true community feeling, special bond with your players, story or theme, environment for players to return to, daily.
Develop a mature server with innovative features. No copy paste, unique experience, can't find this anywhere else.
Become self-reliant, earn from your server so you can grow it, selling premium plugins, piracy, legal, taxes.
Learn the way that best suits you
Learn anytime, anywhere and whatever way you like with multiple training formats.
Our training comes with online, social, live and simulated material.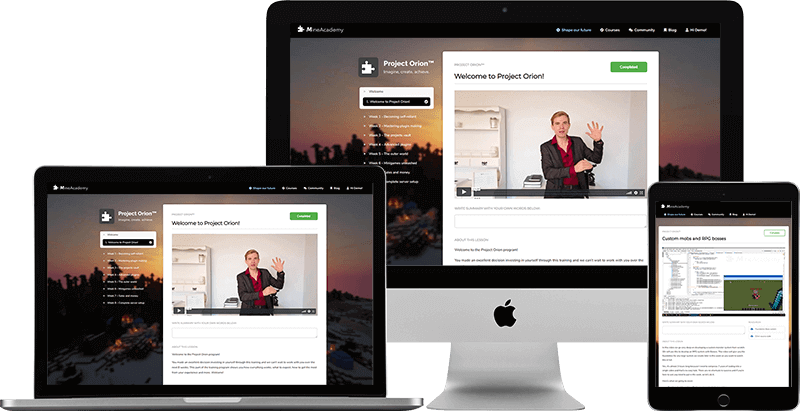 Online e-learning platform
Watch training videos in stunning 4K and soon with English captions. Access the training online from any desktop or mobile device, anywhere in the world, anytime you like.
Action items and tested resources
No-one is here just for the videos. The best way you learn is when you test it yourself, that's why we have action items and resources that'll get you started quickly.
Interactive talented community
Join an energetic community of people on the same wavelength as you. Coding is lonely when you're surrounded by "normal people" who just don't get it. Get inspired, ask questions, generate ideas, make friends and have fun!
Currently we have a private Facebook community however we are preparing an entire forum for our members.
Expert mentorship on demand
Get personalized mentorship from experts who can troubleshoot your problems and provide direction. All courses include weekly Q&A calls, private support group, livestream sessions and 24/7/365 support.
Matej Pacan
Founder of MineAcademy
Author of ChatControl and SpigotCourse
Here's a summary of everything you get
This is not your typical "course". We provide you with everything you need to be successful.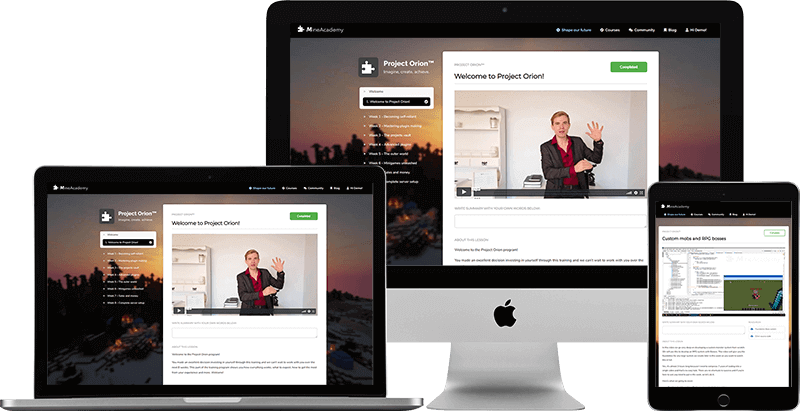 Understand Bukkit/Spigot/Paper
Supports both IntelliJ and Eclipse
Build Minecraft or Bungeecord plugins on demand
Add custom features to your server
Build a unique mature community
Remove lags, bugs and errors
Connect your website to your server
Here's what our students are saying
Our students aren't just satisfied, they are building amazing servers and getting results.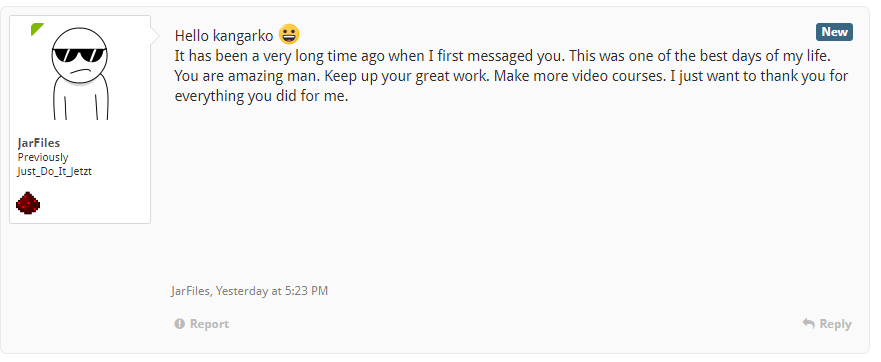 Are you ready to join the revolution?