Learn To Code Minecraft Plugins & Build Hyper-Customized In 30 Days
Get 63% off Project Orion™ - only $72 - usually $197 - save $125
Total value of this training:
Project Orion™ (the core training) — 

$197 USD

Java Masterclass™ (Java training) — 

$47 USD

4 months of IntelliJ Ultimate Edition by JetBrains — 

$111.74 USD

12 months of weekly live coaching calls & 100+ calls archive — 

$997 USD

20+ worksheets, high-productivity calendar, quizzes and pinups — 

$97 USD

Direct access to instructor with 10+ years Java experience — 

PRICELESS

1000+ Discord private room & 400+ member Skool.com group — 

PRICELESS
Total value: $1,449 USD
Yours today: $72 USD
Entry level Java job salary: $80,533 USD (glassdoor.com, updated Dec 21, 2021)
— This investment has the potential to pay for itself 100X and then some. The only risk is not taking this offer and getting locked out (Because we're offering live coaching calls, spots are extremely limited to 10 people per call — we've already filled 6 slots so don't miss out!)
Here's what you get today:
Learn Java & create your own Minecraft plugins in 30 days — learn the #1 top-paid and most popular language on Earth in record time (Java is used by Google, NASA, in crypto, banking, videogames, etc)
No coding or math skills needed (no need to spend months learning code) — if you're a busy student, have a job or a parent (or all of it), we've psychologically designed the training to get you or your kids results FASTER than any college would (see below for reasons why)
6-week course & coaching (source codes, PDFs, worksheets) — prerecorded 6-weeks of content, weekly live coaching calls and a lifetime access (no expiration, free upgrades & no annual fees) 
1000+ member Discord and 400+ private study group — meet co-founders, developers that actually know stuff and friends!
Live instructor calls (get your plugin reviewed live) every week — if you don't have time to attend you can send us your code and watch the recording of it
30 days money back guarantee — plenty of time for you to test the program, and if you go through it and don't get results, you owe us absolutely nothing
The Truth Behind Minecraft plugins
12/29/2021 13:30 UTC: A message from Matej Pacan, CEO & founder of MineAcademy:
Talking about Minecraft plugins…
How many times I've seen people doing CRAZY tweaks only to "patch" that broken plugin whose developers went inactive for months.
Installing Skript or trying to read the annals of SpigotMC is like deciphering ancient Egyptian texts — there's no map and you're stuck on your own.
Developers won't solve the problem either — many are kids not having that "care" for your server only YOU understand, and simply lack the skill to make a customizable, bug-free plugin you really wanted. Not to mention their communication habits…
It's not the BIG NETWORKS stealing your players. No, you don't have to have a RICH DAD to pay ads. No, making a kickass server doesn't take math skills either.
If you've been spending MONTHS building a server or learning to code, the amount of time you're wasting is GIGANTIC — you NEED to read this NOW:
….
Making Minecraft plugins is actually one of the EASIEST things since sliced bread. A chimpanzee could do that (and that's the problem, but more about standards later).
It's also one of the most misunderstood arenas in Minecraft. People go crazy digging archives of Spigot, engaging in endless Discord talks or watching outdated tutorial videos with bad audio (and a weird accent).
After 10 years of coding, I've been through hells you can't imagine but I've also been working with some of the largest networks on Earth.
I hated the corporate culture and working with crapheads, so I packed and quit!
Making your own Minecraft plugins is the #1 way to make your server successful and stand out. And the best way to learn plugins is by following someone who's done all the mistakes before (so you don't have to).

That's why I decided to create my own coding tutorial "to knock them all" and I am offering it to you at a very 63% off this Christmas so that you can make a FUTURE-proof investment rather than spending on something you forget about in 2 weeks' time 🙂
Here's how it looks like: (yes, you'll be making your own ANYTHING even minigames like the big networks without the big budget they have)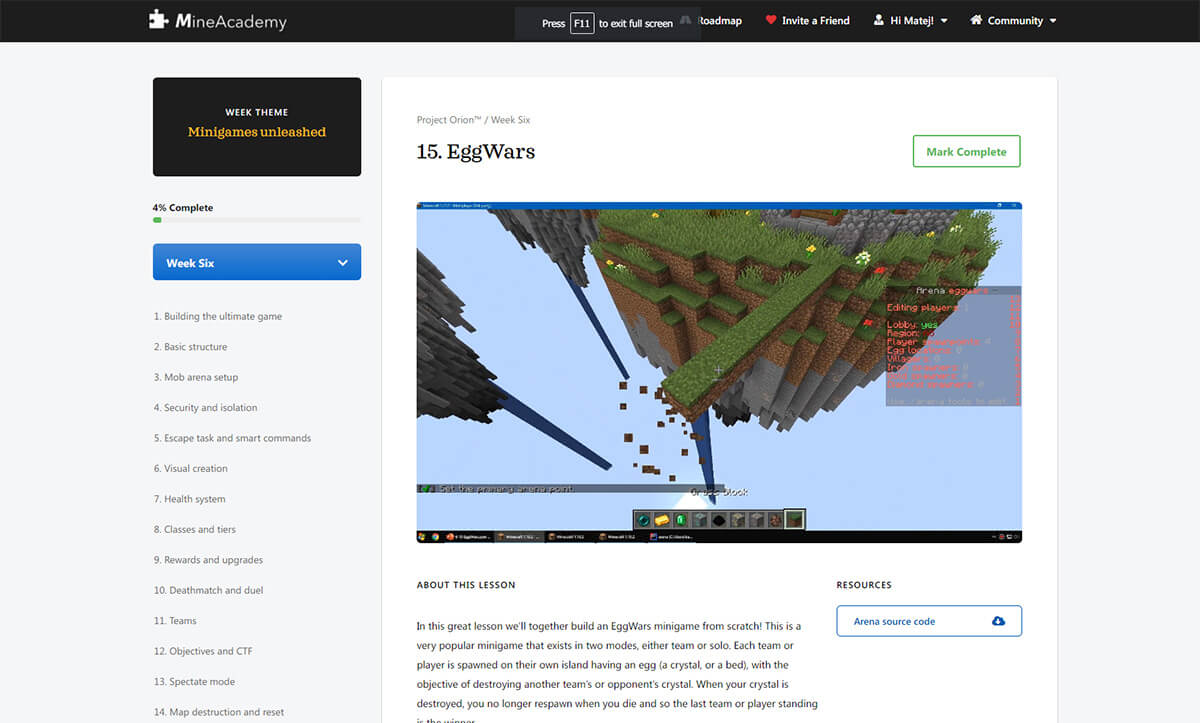 Summary:
Tired

 from crappy and limited plugins, being held hostage by expensive "developers" and outdated YouTube tutorials, I made my own Minecraft plugin tutorial training — and oh boy it's a big one!


On Christmas 2021 I'm offering you a 63% Off 

— You

 can make your first plugin in 24 hours or less (or start AT ANY TIME LATER, you have lifetime access).


It's beginner friendly — no math/coding skills needed. No IQ 130 required either. It's a step-by-step, idiot-proof training on Java, Spigot/Paper and even BungeeCord. I'm a slow learner myself, don't let this excuse stop you!


It's feature-packed — showing you how to create your own menu systems, custom entities, enchants, 

custom ANYTHING

, RPG systems, packets, NMS and minigames.


Slots are extremely limited — every week I'm doing live calls with students and can only take a few (don't worry if you can't attend, calls are archived).
Yes, I'll show you how to code Minecraft plugins from the ground up for Minecraft 1.7.10 or 1.8.8 to 1.18.
Yes, it works for all of your weird server tweaks and yes it won't hurt your TPS because you will finally be in control of how it works!
…
But hey, if you've never coded before, won't your own plugins just plain suck? Talking about quality, I've simply had enough of broken and sub-optimal plugins and "tried it all" — that's why I am a huge believer in standards.
I've spent the last 10 years of coding in Java, I had over 30,000 players who joined my own MC server and over 700,000 plugin downloads and put the same perfection-level quality into my class.
Every corner is meticulously optimized and you'll get all the sources and personalized support you ever need (without paying top dollar for it).
Every week people give the same excuses: I'm busy, I speak broken English, I'm broke, I never coded before, I coded too much & not sure if I can learn anything, I'm a slow learner, I'm too young, I'm too old. Lemme tell you this YES it will work for you!
Stop letting those voices in your head from telling you what you can't do. The greatest pleasure in life comes from doing what you think you can't and doing it anyways. You know it's an excuse and everyone else's trying to stop you hasn't seen life through your own eyes! The sooner you start the faster you get what you want — run a /ban command on these excuses and get it!
PS: This is a one-time private offer to make your server stand out as a thank you for being here the last 10 years. We only have about 8-10 slots left RIGHT NOW (due to the live calls where I review your plugin personally). Avoid getting locked out and go check it out!
>Insert Testimonials Here<