Next Generation Chat Management Is Here
ChatControl Red™ is currently available through MCMarket. Anyone can open a free account there and it works just like SpigotMC.
Full Discord and BungeeCord support.
Chat channels, party chat, global and ranged chat, linked chat.
Over 15 new commands including viewing in-game logs, selective spying, 3D rules regions, mail and nick system.
Exclusive features like the [X] button to remove chat messages and the [item] placeholder in chat.
30 days money back guarantee.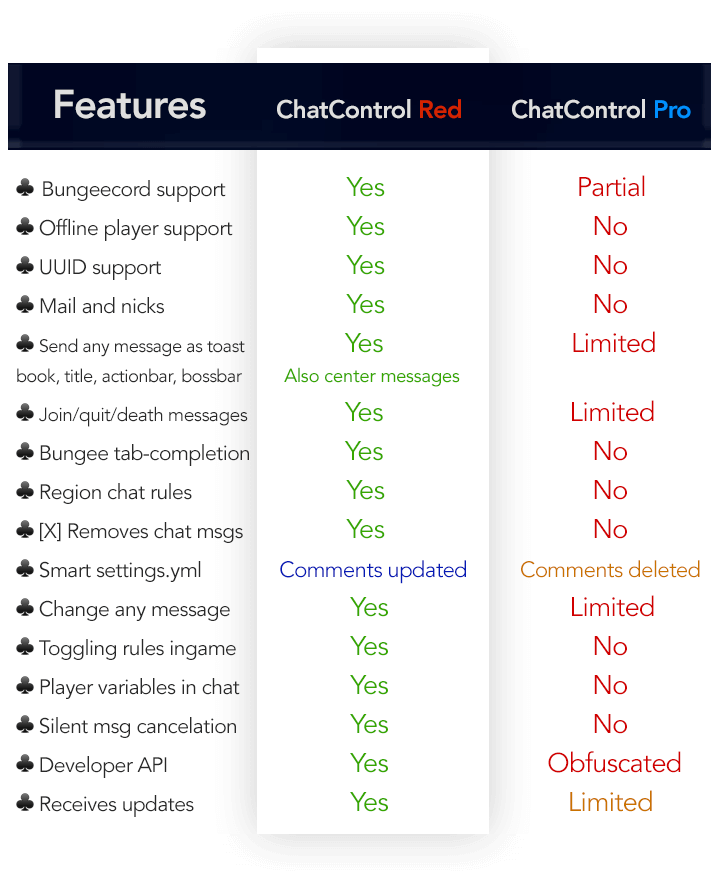 Upgrade From ChatControl Pro™
ChatControl Red is a new product that's separate from ChatControl Pro™. It has been built from the ground up, without reusing any code from Pro. That is why we're offering this as a separate software.
However, for a limited time, we're offering FREE upgrades for ChatControl Pro™ customers that meet either one of the following requirements:
1. People who contributed to ChatControl Pro™ or ChatControl Red™ by means of testing, providing localization files, or helping us code can get a free upgrade.
2. People who purchased ChatControl Pro™ on November 16th or later can get a free upgrade.
PS: For the list of the most important changes, please see this link.
Fill out the following form below to apply for our free update offer:
Are you ready to join the revolution?
Your Minecraft server 2.0 has been waiting for this.